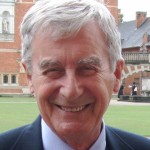 This month's blog comes courtesy of ASEB's Board President Lance Reynolds, who shares a lesson that he recently had to learn the hard way:
I had a fall while on vacation that had me wheelchair bound for a week and now hopping around on crutches. It has been a powerful learning experience that has given me a much better understanding of how our clients probably feel, and the demands limited mobility places on their caregivers.
From having little discretionary time I suddenly have all the time in the world. Just as well as it takes me half an hour to shave, wash and get dressed. Yet it is important to me to be able to do it all myself and I think that is the first big lesson. It is natural for others to want to help, and there are times when I welcome it, but for the most part I need to be self-sufficient.
I think it likely that even with some memory loss that need is still there. It is so tempting when one of our clients is doing a jigsaw puzzle to pop pieces in. That is not what she needs. She just needs the pieces in reach.
Our clients in wheelchairs want to control their own movements. I now understand why.
I have always had great respect for caregivers. Now that my wife, who works full-time, is also caring for me I have a much better appreciation of the demands caregivers face. Society needs to do much more to support them. Indeed caregiver support is one of ASEB's strengths and an area we are putting more resources into.
My best to you all,
Lance Reynolds