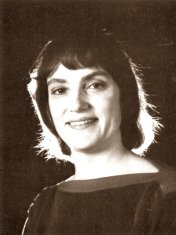 For my last post of 2012, I'd like to share the story Judy and Alan Nelson, one of the many families who became part of the ASEB family over the years.
Judith Nelson was one of the world's most famous singers of Baroque music. In the San Francisco Bay Area, she was one of the founders of the Philharmonia Baroque Orchestra. She has about 70 recordings to her credit, including her role as first soprano on the Christopher Hogwood Messiah, recorded in Westminster Abbey in 1980 for BBC TV. Philharmonia's Music Director Nicholas McGegan said, "Though Judy sang like a goddess, she was no diva. She was smart, funny, a wonderfully supportive colleague, and a joy to be with." Judy's husband, Alan Nelson, is Professor Emeritus in the English Department at UC Berkeley. From 2008 until 2012, Judy was a participant in the day program at ASEB's Berkeley Center. "ASEB was everything you could hope for," Alan says. "I absolutely appreciated the fact that they took such good care of Judy, made so much of her. I really felt she was in such good, caring hands."
Alan says that it was 12 years ago when he began noticing a change in his wife. "I keep coming back to when things started, and it was in the year 2000 that I realized there was a problem. She would ask the same question several times, even though I'd just answered it. Then it became about as difficult a situation as you can imagine. There was no high drama, but clearly there was mental deterioration."
[pullquote]Everyone at ASEB seemed to take such a personal interest in Judy…they were so supportive and showed a sense of appreciation of what she had done and who she was."[/pullquote]Alan managed the first six years of Judy's memory loss without any help. He retired early, in 2003, in part to take care of Judy, though he still did some teaching. As his wife needed more care, Alan relied on the help of relatives, first a niece who moved into his house for a year. Later, when Judy required more attention, their daughter and her husband moved in with them for two years. In 2008 Alan contacted ASEB. "I knew about it because I passed the sign many times," he says. Judy began by attending the day program three days a week, eventually increasing her participation to five days a week.
"At first she didn't like the fact that we had to pass a sign that said Alzheimer's," Alan recalls. "She would say, 'What are we doing here? I don't have Alzheimer's.' But there are blessings to losing short term memory loss because once we passed the sign she didn't think about it anymore. She was content to go. She was very happy that people admired her and hugged her, said hello to her, and kept her busy. She really liked the lunches and she enjoyed being with people.
"Everyone at ASEB seemed to take such a personal interest in Judy," Alan continues. "They knew that Judy had been a singer. I brought a CD and they played the music. And I brought a DVD of the Messiah that she was in and they played that. It was so supportive and showed a sense of appreciation of what she had done and who she was."
Alan remembers with a chuckle that his wife liked to hold people's hands, and that she was always reaching out and taking someone's hand in her own. "She had an iron grip," he says. "This was fine when it was a member of the staff, but they had to look out for her when she held hands with other participants. One of them was a colleague of mine from the English Department. Judy took his hand and wouldn't let go. My colleague objected, and the staff had to separate them. Sweet Judy, it's so amusing to think about because she's the last person on earth who would want to offend anybody."
During this time, Alan enlisted two students from UC Berkeley to help out. "I gave them a place to live in exchange for helping to look after Judy and they became a part of our life," he says. One of the students arranged for the UC Berkeley Jazz Band to perform for the participants at ASEB. "I know that ASEB feels that they benefited so much through the undergraduate students bringing the band to play, but I feel that it was great for ASEB to be so accommodating and cooperative. They made a big effort. We really felt like we were part of their family, like they were supporting us by supporting our friends and caretakers."
Alan says that his wife enjoyed the arts program that ASEB pioneered. "All the seasonal festivities, the special days when the participants wore hats or Halloween costumes were very nice," he says. "They gave people a sense they were participating in the world around them."
The last six months that Judy participated at the Berkeley Center, she arrived via ASEB's van service. "That was wonderful," her husband says. "James was her driver and he was so cheery and so much fun. He had his little routines that he would say for every day of the week. We got to like James a lot. He always seemed to like Judy, and he liked to take care of her. It's a great service."
Alan also has lavish thanks for Geri Degen, the ASEB social worker who guided the Nelsons' relationship with ASEB. "I have nothing but praise for Geri," Alan says. "Everything I say includes a compliment for her. She was with us all the way through. She took a genuine interest in us."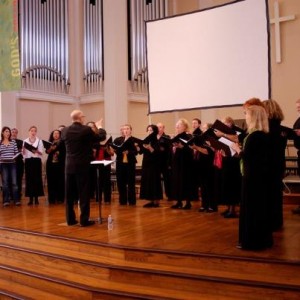 Judy died peacefully on May 28, 2012, at the close of her 12-year battle with Alzheimer's disease. On the 10th of September, Judy's birthday, a memorial concert was held at the First Congregational Church in Berkeley, across the street from the ASEB center. Hundreds of people from all over the world attended, including many of Judy's colleagues—musicians she had performed with over the years. The concert was a tribute to her life, to the many friends she had made, to the music she was passionate about, and the joy she had brought to so many people through the gift of her voice.
At Alan's request, the reception following the concert was held at ASEB's Berkeley Center. "Judy had a lot of friends and it was a chance for everybody to get together," Alan says. "It wonderful to have the reception across the street. Geri was instrumental in coordinating the gathering. ASEB was splendid. We really couldn't have hoped for a lovelier tribute."