November is Alzheimer's Awareness Month, and in recognition, ASEB is again teaming up with Farley's Coffee to bring back a unique product: the ASEB Brain Booster Sandwich. This nutritious and delicious melt is made with memory-enhancing ingredients. Our aim with this partnership is to spotlight both Alzheimer's and the concept of the "Sandwich Generation" of caregivers.
During the month of November, the ASEB Brain Booster Sandwich will be available at Farley's coffee locations in Emeryville and Oakland.
"The Sandwich Generation" refers to caregivers who find themselves caring for two generations–children as well as elder parents or other senior family members. More than 5 million Americans live with Alzheimer's, and there are over 15 million Alzheimer's and dementia caregivers in the United States.
Farley's is contributing $.50 of the sale of each ASEB Sandwich sold at its Emeryville and Oakland locations to help ASEB's mission to support families.
This partnership is a credit to Farley's commitment to supporting local non-profits. Farley's mission is to make the communities where they do business better places to live and work. Farley's coffee provides sustainable and inspiring food and coffee in each of their locations with a welcoming heart-warming feeling.
Please support this exciting partnership and enjoy your lunch! Let's raise awareness for Alzheimer's together!
Farley's on 65th
1195 65th St
Emeryville, CA 94608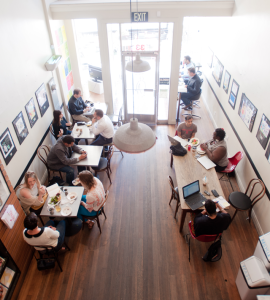 Farley's East
33 Grand Ave
Oakland, CA 94612
The official ASEB Brain Booster Sandwich:
Spiced tuna with orange zest
coriander
cinnamon
cilantro
chopped almonds
dino kale
orange supremes
jack cheese
Bread:
Acme Seeded Whole Wheat Loaf